Feel the Benefits of our Magnetic Soles

Electromagnetic Fields (EMF) Hazards
Bioeffects of Selected Non-Lethal Weapons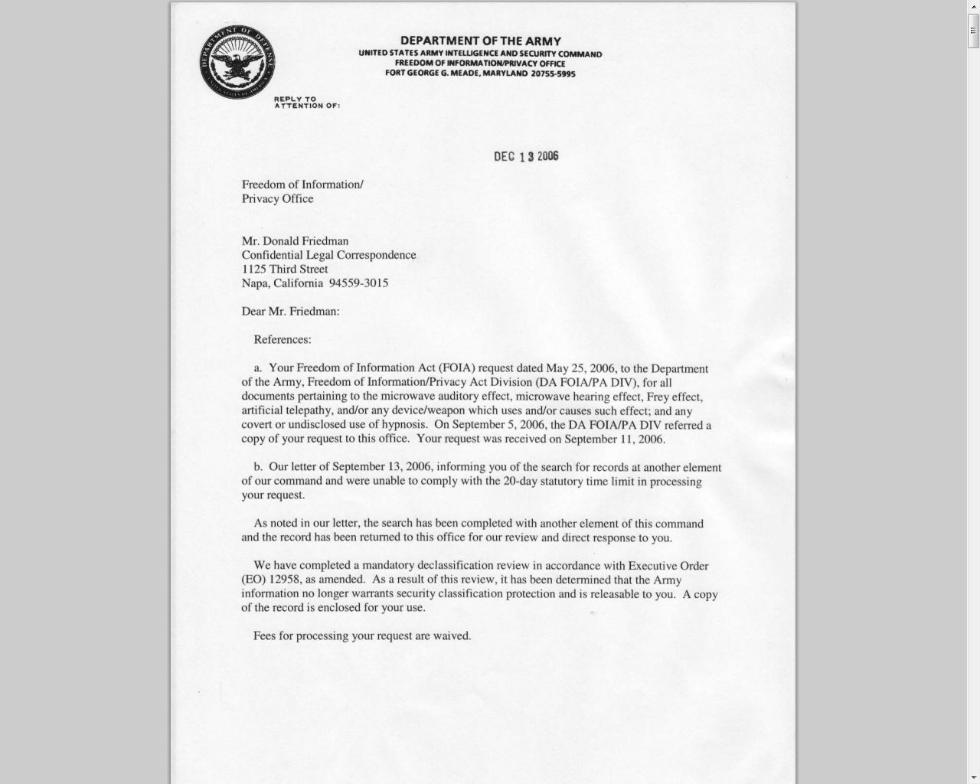 DEC 13 2006
Freedom of Information
Privacy Office
Mr. Donald Friedman
Confidential Legal Correspondence
1125 Third Street
Napa, California 94559-3015
Dear Mr. Friedman:
References:
a. Your Freedom of Information Act (FOIA) request dated May 25, 2006, to the Department
of the Army, Freedom of Information/Privacy Act Division (DA FOIA/PA DIV), for all
documents pertaining to the microwave auditory effect, microwave hearing effect, Frey effect,
artificial telepathy, and/or any device/weapon which uses and./or causes such effect; and any
covert or undisclosed use of hypnosis. On September 5, 2006, the DA FOIA/PA DIV referred a
copy of your request to this office. Your request was received on September 11, 2006.
b. Our letter of September 13, 2006, informing you of the search for records at another element
of our command and were unable to comply with the 20-day statutory time limit in processing
your request.
As noted in our letter, the search has been completed with another element of this command
and the record has been returned to this office for our review and direct response to you.
We have completed a mandatory declassification review in accordance with Executive Order
(EO) 12958, as amended. As a result of this review, it has been determined that the Army
information no longer warrants security classification protection and is releasable to you. A copy
of the record is enclosed for your use.
Fees for processing your request are waived.
Bioeffects of Selected Non-Lethal Weapons
Dianne Knight's Comment:
When wearing your Magnetic Soles and Wellness Products, please ensure that you have a clean, safe EMF environment to avoid possible interactions with dangerous frequencies, especially those that by some are considered non-lethal.

What happens to a fetus, a woman's ovaries for all her future babies and in turn all future generations or a highly vulnerable sensitive being when caught in the non-ionizing radiation plume of Selected Non-Lethal Weapons?