Feel the Benefits of our Magnetic Soles

Magnetic Wellness Products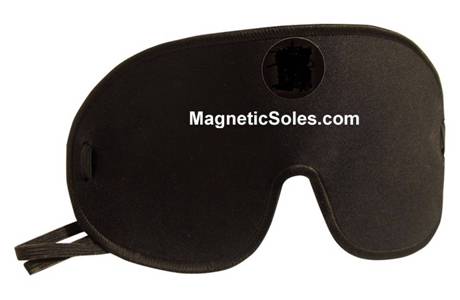 The Sleep Masks are used for relaxation, stress relief, sinus pain, and headaches. You will enjoy a better quality sleep within a shorter period of time. The masks have been found to help you quickly navigate into REM sleep. After using the sleep mask, people have reported waking up from both a long night's sleep and naps, feeling more rested and refreshed. This mask is a great travel companion because it is ideal for sleeping in the most challenging and uncomfortable situations.
Purchasing Notes:
1. Customer is also responsible for Canada Customs Duty, when applicable.
2. Please allow up to 2 or 3 weeks for delivery.
3. Inform your doctor that you are using the Magnetic Soles Sleep Mask.
Wellness Notes:
1.
Journalise
Your Results. Keep a written record of your observations and sensations.
2. Each Sleep Mask comes with a
15 Minute Follow-Up Individual Telephone Consultation
included.
3. Shipping Weight: 8 ounces. Product Weight: 54
grams
(
1.9 ounces)
.
Canada Post Rates
4.
Product Dimensions: 8.5 x 0.1 x 4 inches

5. Please observe the
Set-Up, Care and Important Safety Cautions
.
6. Always keep your
Water Hydration
high.